As part of Test Automation Solutions Unit (TASU), we provide matured test automation solutions for functional, regression and load/performance testing of software products. We use both proprietary as well as open source tools and languages such as Selenium, QTP, Rational, python, perl, Tcl/Tk, Java, C++, C#, .Net etc.
Our Expertise in Functional Test Automation
Functional Test automation is one of the key requirements in regression testing. We have experience using a variety of test tools and under numerous test environments.
OAKSYS can take up end-to-end activity of Functional Test automation. Based on the experience gained over the years, OAKSYS has developed a proprietary test automation model (OAK-TA model). OAKSYS follows this model for the managed test automation projects.
The model is depicted here below.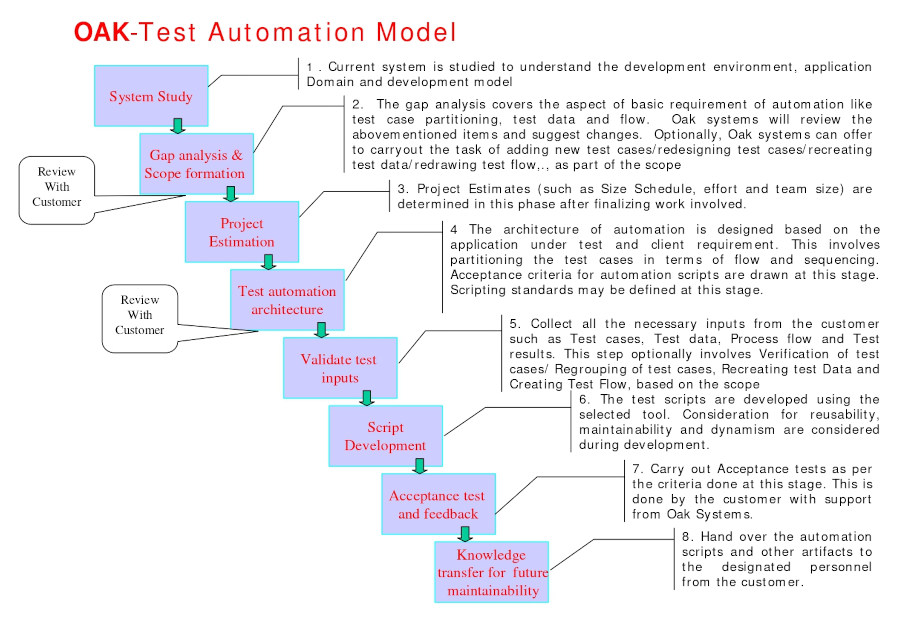 The following are some of the projects in the Functional Test automation space.
Development of a Test automation framework for an e-commerce portal using Selenium
Executing automated regression tests involving over 20,000 test cases release after release for a major banking product under QTP toolset
Development of a Test Automation suite for payment gateway system using SilkTest
Test Automation of fin. data aggregation product
Development of Test automation framework for multiple products using python
Development of Test automation framework for a data Analytics software using Ranorex and C#
Test automation framework for a SIP based telephony application using TCL/Tk scripting.
Test Automation for a telecom billing application using Winrunner & then porting to QTP.
Test Automation of a Leisure Portal using Selenium (Java RC) and JUnit
Test automation of Life & non-life insurance software using QTP
Continuous testing of a mobile app for crypto currency wallet platform
Test automation of mobile and desktop versions of ERP system
Our Expertise in Performance/Load Testing
We have experience in conducting performance testing and profiling using a variety of test tools. We have expertise of conducting Load/performance testing of software using many industry standard tools such as LoadRunner, OpenSTA, Jmeter, ACTS, ..
Some of our notable projects are,
Performance Testing of Enterprise applications of a Large Fortune 500 company using LoadRunner
Performance profiling and testing of Real Time Service Management suite of products using Microsoft tool ACTS
Performance testing of several Insurance products using Loadrunner and OpenSTA
Performance profiling and Testing of multiple e-Learning Software using OpenSTA / Jmeter
Performance testing of Freight Management System using OpenSTA
Performance profiling & load testing of number of web based systems using Jmeter
For Test Automation Brochure, please Click here
For business enquiries, please Click here